http://d.gr-assets.com/
Helen Hiorns:
the name on your wrist
After reading Bovary this teens' book felt so relieving. Only 261 pages, not very hard language and narration that actually proceeded. So thank you Helen Hiorns for creating something that brought back my desire to binge read.
The main character and narrator of this book is Corin. She lives in a world where everything gets decided based on what is best for you. You are streamed into the most fitting career path, your house is assigned to you and your soul mates name appears on your wrist at a young age. Your carpinomen is your most valuable secret. Corin doesn't want to fit into the society. She manipulates and tricks other people and pushes away those that could actually care for her. Her family life is a mess. Her sister Jacinta drifts in and out of psych ward and her mother is totally oblivious to anything that goes on beneath the surface. Corin finds herself pulled deeper into the world of secrets and deceit than she ever could've guessed possible. And all this just because of a name written on your wrist.
Despite the cheesy name and cover this book turned out to be excellent which surprised me a great deal. I was expecting a silly fan fiction Soulmate AU but got a cutting political and philosophical satire instead. Many things and attitudes in this futuristic society felt like metaphors for our own problems.
"Humanity always had to hate someone. It gave them a purpose, I supposed, and made many feel like they were worth more. There are too many people for everyone to be satisfied with to be equal. People always want to be more significant than the blips in history they are."
"Humanity is just so very good at boasting about the things they are supposedly good at, and hushing up the things they don't want anyone else to know."
The name on your wrist is not a thick book so I recommend it to anyone who has a few moments to spare. It feels wonderful to be positively surprised every once in a while.
4
1/2
/ 6 discussions about your future career (might be farming)
Helen Hiorns: the name on your wrist, 2013, Corgi Books, 261 pages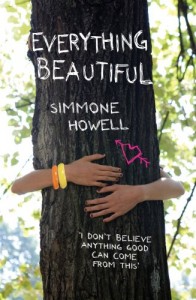 http://thebooksmugglers.com/
Simmone Howell:
Everything Beautiful
Riley Rose gets sent to a religious summer camp after her father and his new girlfriend get tired of her antics. Riley knows straight away that she'll hate the place. The other campers are obnoxious and annoying while the camp leaders are way too deep in their Jesus-stuff. A welcome exception comes in the form of Dylan Luck, a boy in a wheelchair. Riley may get more out of this camp than she thought after all even if not in the way her father would've wanted.
I really liked Everything Beautiful. It had real emotions in it. I know I would not like Riley in real life but in the magical world of books we got along just fine. Her inner conflicts were written well and something about her way of life made reading interesting. Luckily, this wasn't a very angsty book. Instead it dealt with difficult themes and serious matters with a sort of realistic and humoristic tone. Especially the chapter names were pure gold. For example, "Bad-weird and Jesus-freaky".
Everything Beautiful had irritating features as well. Some of the campers were caricatures and a bit cliché. Riley made some bad decisions and didn't speak her mind when I really would've wanted her to. Other times she had no trouble opening her mouth. A little preaching might've also slipped in. You know, the annoying life-lesson type.
The ending was most surprising. I won't spoil it but it definitely wasn't quite what I was expecting. Everything Beautiful is not a long book but it still manages to capture a small slice of life. This truly falls into the category of books I recommend.
4
/ 6 Shrouds stolen from Roslyn (now with lipstick stains!)
Simmone Howell: Everything Beautiful, 2008, Bloomsbury, 277 pages
http://upload.wikimedia.org/
Louis Sachar:
Holes
Stanley Yelnats is a boy who's always in the wrong place at the wrong time. This time it got him on Camp Green Lake serving his conviction. In Camp Green Lake the inmates must each day dig one hole. Soon it becomes clear to Stanley that the digging isn't really meant for building character but instead it would seem they are looking for something.
Holes is one of the weirdest books I've read in a while. Not bad-weird just strange. The events move quickly and the narrator sometimes has a opinions. Some things are quite unbelievable but the three main stories fit together very well.
I really love the three different story lines that reveal themselves throughout the book. The main story with Stanley is actually the most boring one but it doesn't matter. The mountain thing is awesome. The other two stories are more mysterious and touching. Especially the one about Kate Barlow.
As you can probably tell I don't have anything wise to say about Holes right now. Just know that it's very entertaining and most bizarre.
4 / 6 Potions made of sweet onions (it keeps the lizards away)
Louis Sachar: Holes, 1998, Scholastic, 233 pages